SSL Certificates
Secure your site and add trust & confidence for your visitors.
With a range of brands, we have the right certificate for all your site security needs
Choose your level of validation
Domain Validation (DV)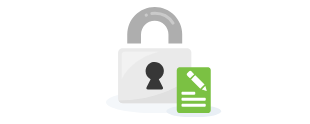 Basic Security
Issued in minutes, ideal for blogs, social media & personal websites
Buy
Organization Validation (OV)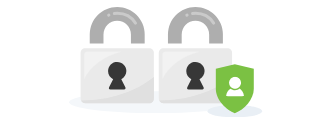 Strong business level SSL
Company identity included in certificate, ideal for business websites
Buy
Extended Validation (EV)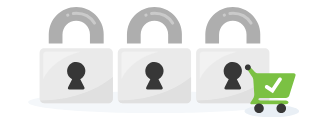 Maximum Protection & Trust
Green address bar & company name displayed, ideal for ecommerce
Buy
What is SSL?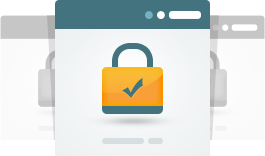 SSL Certificates are fundamental to internet security. They are used to establish an encrypted connection and allow data to be transmitted securely between a browser or user's computer and a server or website.
Establishes a secure connection between a browser and a server
Encrypts communication to protect sensitive information your customers provide to you
Places a padlock next to your web address in the browser
Authenticates an organization's identity
Standard SSL (Domain Validated) Certificates are the easiest and most common type of SSL certificate. OV and EV Certificates also authenticate the identity of the company or organization that holds the certificate providing more trust to end users.
Improve Your Search Engine Ranking
Establish trust and online security for your website visitors and business.
Google wants to make the web safer and a big part of that involves making sure that the sites people access via Google are secure. That's why websites using SSL have been shown to benefit from higher ranking in search results.
There's also a lot more reasons why you should consider adding SSL to your website:
Encrypt sensitive data
Protect user privacy
Secure online transactions
Activate HTTPS and the lock icon
Prove legitimacy
Increase SEO rank
Browsers have changed, don't get left behind

Web pages not served via HTTPS are now being displayed as 'not secure' in
Google Chrome
and
Mozilla Firefox
. Don't let your website be one of them. Add SSL today.
Upgrade with us and get up to an additional 12 months free.
Saiba mais »
Upgrade to Extended Validation SSL
While all SSL certificates use similar methods to protect and validate your data, the level of trust and assertion they provide varies.
Extended Validation Certificates offer the highest level of validation and trust. They validate and display the name of the company or organisation along with the green address bar which is one of the most highly recognizable trust indicators on the web.
While the need for online security is universal, not all SSL Certificates are created equal. The guide below is designed to help you decide which type of certificate is right for you.
Domain Validation (DV)
Verifies ownership and control of the domain name only
Issued in minutes
Maintains browser compliance
Ideal for non-critical web pages
Think of DV like getting a library card—no confirmation of who you really are, very minimal requirements to obtain and issued very quickly.
Browse Domain Validation Certificates
Organization Validation (OV)
Enhanced validation including authenticating the identity of the applicant
Issued within one day
Maintains browser compliance
Ideal for more sensitive webpages such as login pages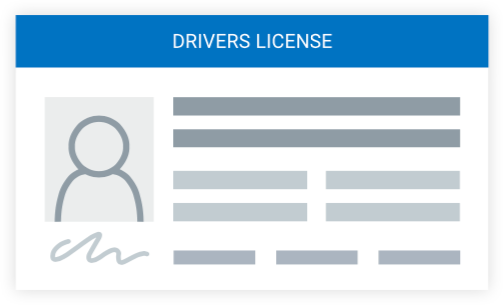 Think of OV like getting a driver's license—more hoops to jump through than a library card but more trusted as a form of identification.
Browse Organization Validation Certificates
Extended Validation (EV)
Standards-based approach to authentication, representing the highest level of authentication for SSL Certificates
Typically issued within 1-3 days
Maintains browser and other industry compliance
Ideal for sensitive webpages including ecommerce, online banking, account signups
Think of EV like getting a passport—much more stringent processes, longer lead times and more verification of who you are than with a library card or driver's license. Recognized internationally as the most trusted way to verify your identity.
Browse Extended Validation Certificates
RapidSSL

Os Certificados RapidSSL® ajudam você a manter as transações de seus clientes seguras com criptografia de dados de até 256 bits e autenticação do site. Compre um certificado e acelere a inscrição com a validação automatizada de controle de domínio. O melhor de tudo, nossos certificados SSL estão entre os mais acessíveis do setor. Mantemos nossos custos baixos e repassamos as economias para você.

GeoTrust QuickSSL Premium

Proteja seu site rapidamente. Os certificados GeoTrust® QuickSSL® Premium são uma das maneiras mais rápidas para você começar a proteger transações e aplicativos on-line com SSL. Com um processo automático de autenticação e emissão, leva apenas alguns minutos para obter seu certificado SSL QuickSSL Premium. Depois disso, gerenciar e renovar seus certificados é muito fácil. Com o GeoTrust, você obtém SSL de baixo custo sem sacrificar a conveniência, a escolha ou a confiabilidade.

GeoTrust True BusinessID

SSL de classe empresarial - apenas melhor. Quando se trata de selecionar segurança SSL para o seu negócio, você tem muitas opções. Com o GeoTrust, a decisão é fácil. Os certificados GeoTrust® True BusinessID SSL permitem que seus clientes saibam que seu site é confiável e que você leva a segurança deles a sério o suficiente para obter seu certificado de uma autoridade de certificação confiável globalmente.

Symantec Secure Site

Obtenha proteção econômica e força que define a indústria. Desde o primeiro nome em segurança. Proteja seus sites não transacionais e/ou internos com criptografia de até 256 bits. Sem gastar mais do que você precisa.

Symantec Secure Site Pro

Reforce a segurança de todo o seu site com criptografia ECC e avaliação proativa de vulnerabilidades. Proteja suas transações, dados e comunicações com os algoritmos ECC, RSA e DSA para obter a criptografia mais forte possível.

GeoTrust True Business ID with EV

Faça uma declaração de segurança forte com a barra de endereços verde. O GeoTrust® True BusinessID com EV (Extended Validation) é o nosso produto de segurança SSL de nível empresarial premium, confirmando visualmente o mais alto nível de autenticação disponível entre os certificados SSL. A barra verde diz tudo. Os visitantes do Web site realmente notam quando a barra de endereços fica verde em seus navegadores de alta segurança e o campo da organização começa a girar entre o nome da sua empresa e o GeoTrust.

Symantec Secure Site EV

Adicione o poder de garantia aos seus sites e segurança, com lembretes visuais de que cada segundo de cada visita é protegido. Dê aos seus visitantes uma garantia visual de que suas transações estão protegidas com algoritmos RSA e DSA. Tudo com um certificado.

Symantec Secure Site Pro EV

Combine o algoritmo de criptografia mais avançado com dicas de garantia visual, para confiança sem questionar. Proteja seus clientes com criptografia de até 256 bits e 3 algoritmos, enquanto fornece uma prova visual de que eles realmente estão em seu site.

RapidSSL Wildcard

Os Certificados Wildcard RapidSSL® ajudam você a proteger vários subdomínios com um certificado SSL de baixo custo emitido para * .seudominio.com. Proteja os dados pessoais de seus clientes com criptografia de até 256 bits. A validação automatizada do controle de domínio facilita a autenticação do site. Na RapidSSL, acreditamos em fornecer a proteção SSL que você precisa a um preço competitivo.

GeoTrust QuickSSL Premium Wildcard

Proteja seu domínio e todos os subdomínios de mesmo nível rapidamente. Os certificados GeoTrust QuickSSL Premium Wildcard são uma das maneiras mais rápidas de começar a proteger todos os seus subdomínios em um único certificado. Nosso processo automatizado de autenticação de e-mail significa que você recebe seu certificado em minutos. Com os certificados curinga QuickSSL Premium, você obtém subdomínios ilimitados e em um número ilimitado de servidores - um certificado que se adaptará à medida que sua empresa cresce.

GeoTrust True Business ID Wildcard

Simplifique o gerenciamento de certificados com a conveniência de um certificado curinga. Os certificados GeoTrust® True BusinessID Wildcard permitem proteger vários subdomínios em um único certificado, reduzindo o tempo e o custo de gerenciamento. Seja a página inicial da sua empresa ou o nome do host do seu servidor de e-mail, proteger suas informações confidenciais é o seu objetivo - e também é nosso objetivo.
What is an SSL Certificate?
SSL Certificates enable data encryption on the internet and allow data to be transmitted securely from a web server to a browser. With SSL, your website can use the https protocol and will display a padlock in end users web browsers to indicate the connection is secure.
Why do I need an SSL Certificate?
SSL Certificates are an essential part of the internet. They not only encrypt communication between your computer and the server where a website is located, but they also provide verification that a site is what it claims to be.
What are the different types of SSL?
There are 3 different levels of vetting that SSL Certificates are based upon. Domain Validated (DV) , Organization Validated (OV), and Extended Validation (EV). The major difference between the types of certificate relates to the information the Certificate Authority, RapidSSL, GeoTrust and Symantec, requires and validates in order to issue a certificate. The higher levels of certificate require more information, and often is displayed in the browser bar. EV SSL for example turns the browser bar green and displays the organization name to visitors to generate more trust.
What is a Wildcard SSL Certificate
A Wildcard SSL certificate provides the same encryption and authentication features as other SSL certificates but can also be applied to an unlimited number of subdomains of a website. A Wildcard SSL certificate supports the root domain (example.com) as well as its subdomains. Saiba mais
What are the advantages of an EV SSL Certificate?
EV, or Extended Validation, is the highest class of SSL available today and gives more credibility and trust to your website than other SSL Certificates. They include features such as the green address bar and display of your company name that have been proven to boost trust and consumer confidence.
What if I already have an SSL Certificate?
You can switch to us at any time. We offer highly competitive pricing and if you already have an existing certificate, we'll add any remaining validity that you have on your existing competitor SSL Certificate up to a maximum of an additional 12 months. Saiba mais
Our SSL certificates are from some of the most trusted brands in Online Security.

Powered by WHMCompleteSolution